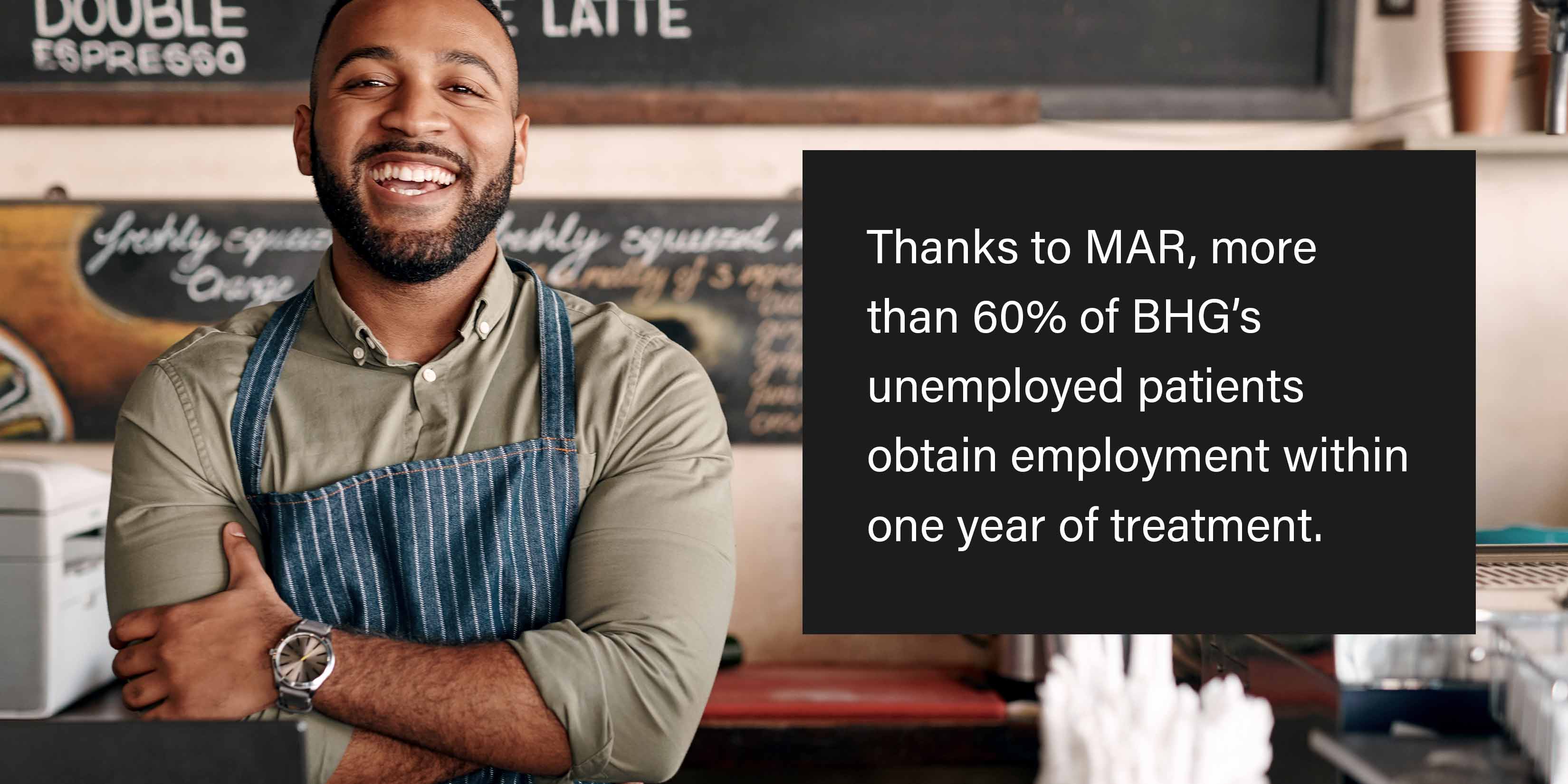 Five reasons for communities to believe
It's estimated that 2.3 million people in the United States have opioid use disorder (OUD), a life-threatening condition with a 20-fold greater risk of early death due to overdose, infectious diseases, trauma and suicide. Equally problematic is the toll OUD has on communities. Lost wages and productivity negatively impact families and businesses. Skyrocketing medical costs strain an already burdened healthcare system. Local governments, schools, criminal justice and social services are overwhelmed, challenging the ability to address even the most fundamental needs of a community.
But there is hope. Comprehensive treatment for OUD that emphasizes Food and Drug Administration-approved medications and includes access to additional services such as addiction counseling, case management and peer support has shown to be highly effective in saving lives and helping individuals suffering from OUD to achieve real recovery. Medication-Assisted Recovery℠ (MAR) alleviates withdrawal symptoms and reduces opioid cravings, enabling patients to focus on holistic recovery support. Just as OUD negatively impacts communities, the results of MAR can have a positive and lasting effect on a community's social and economic welfare. Following are five proof points for communities to consider:


MAR saves lives: In addition to making withdrawal from opioids much safer for individuals and reducing the need for inpatient detoxification services, recovery using MAR makes people with OUD less likely to return to drug use and risk a fatal overdose. OUD treatment with medication support also helps people restore their functionality, improve their quality of life and reintegrate into their families and communities.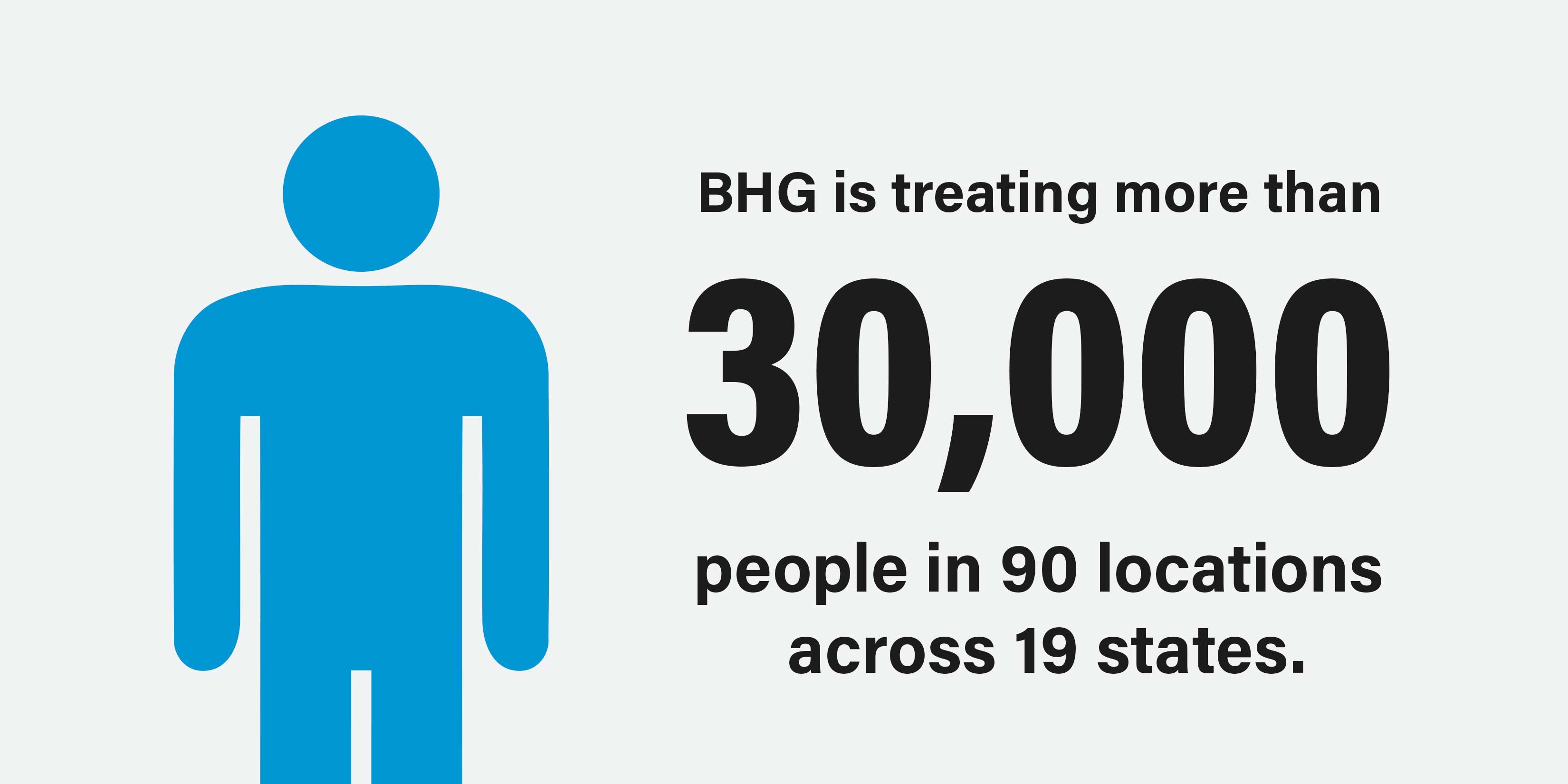 *BHG is treating more than 28,000 people in 86 locations across 18 states.



MAR improves well-being

: The comprehensive services provided as a part of MAR are designed to identify and ensure the treatment of co-occurring disorders, such as depression or anxiety, that often exist within substance-use cases. By addressing the impetus to use, MAR increases the duration of patient engagement with treatment and helps to heal pain from trauma.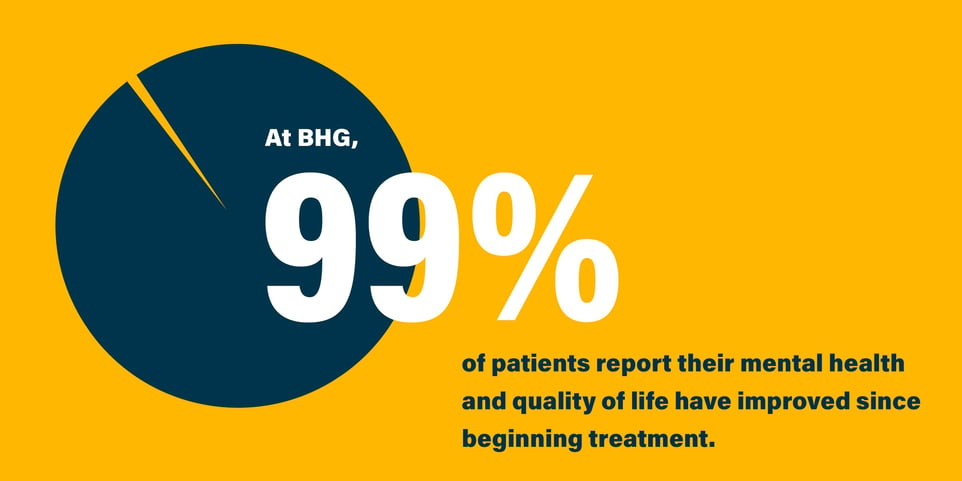 *At BHG, 99% of patients report their mental health and quality of life have improved since beginning treatment.



MAR strengthens the workforce: The work hours lost due to opioids escalated as the impact of OUD pulled more and more workers out of the labor force. Cumulatively, from 1999 to 2015, the economy lost 12.1 billion work hours and $702.1 billion in real output. This has a costly effect at the community level, fraying economies and weakening local business districts.
*Thanks to MAR, more than 60% of BHG's unemployed patients obtain employment within one year of treatment.




MAR reduces healthcare costs: In addition to lowering ER admissions and emergency response, research shows that MAR can help lower a person's risk of contracting diseases such as HIV or hepatitis C by reducing the potential for relapse. These positive effects of good health translate to lower healthcare costs.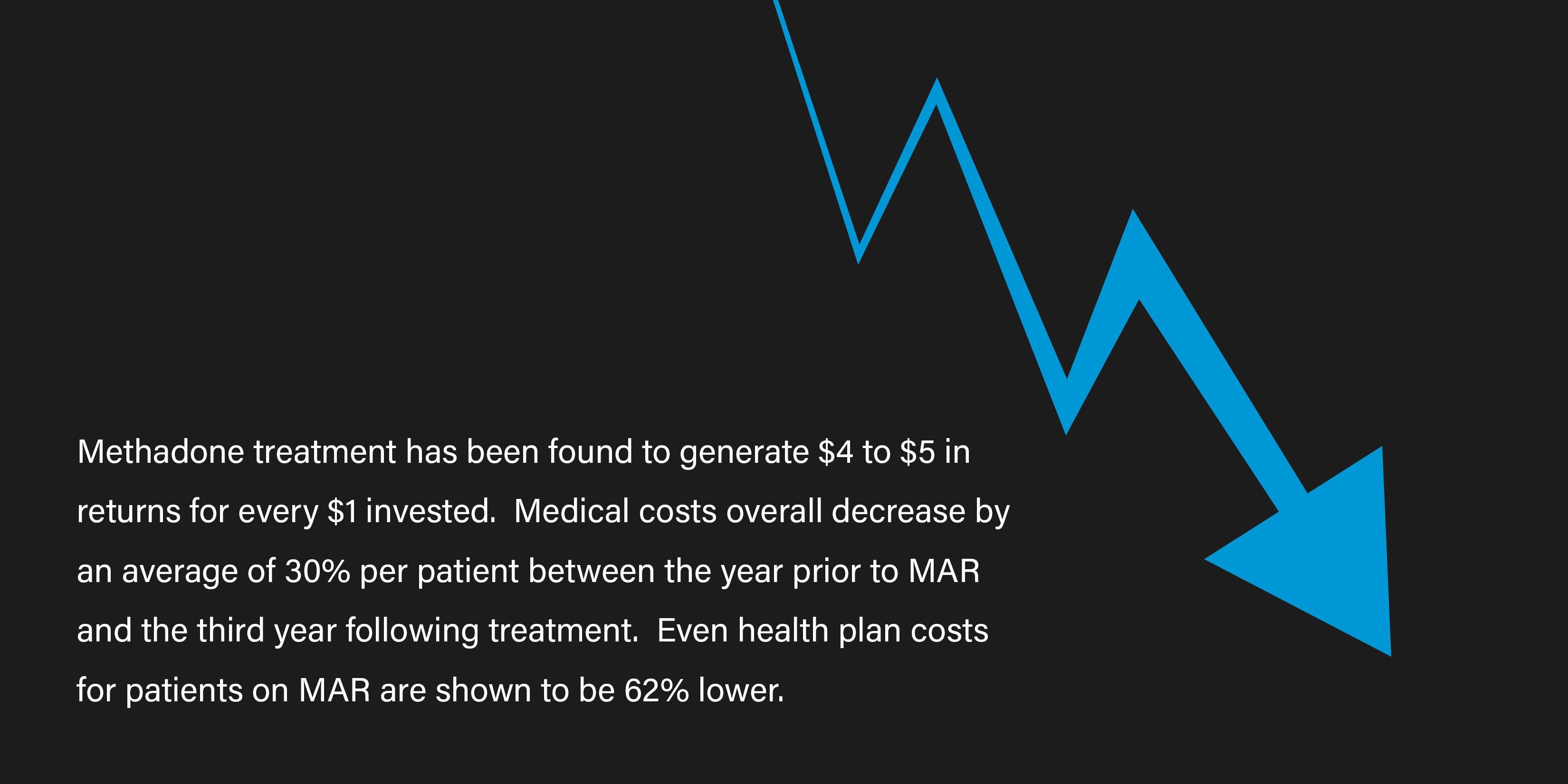 *Methadone treatment has been found to generate $4 to $5 in returns for every $1 invested. Medical costs overall decrease by an average of 30% per patient between the year prior to MAR and the third year following treatment. Even health plan costs for patients on MAR are shown to be 62% lower.5




MAR reduces burden on the criminal justice system: MAR reduces the need for people to use illicit opioids and eliminates criminal activity associated with accessing those drugs. For many communities, this means re-channeling law enforcement and criminal justice personnel to focus on high-value activities designed to keep neighborhoods and schools safe.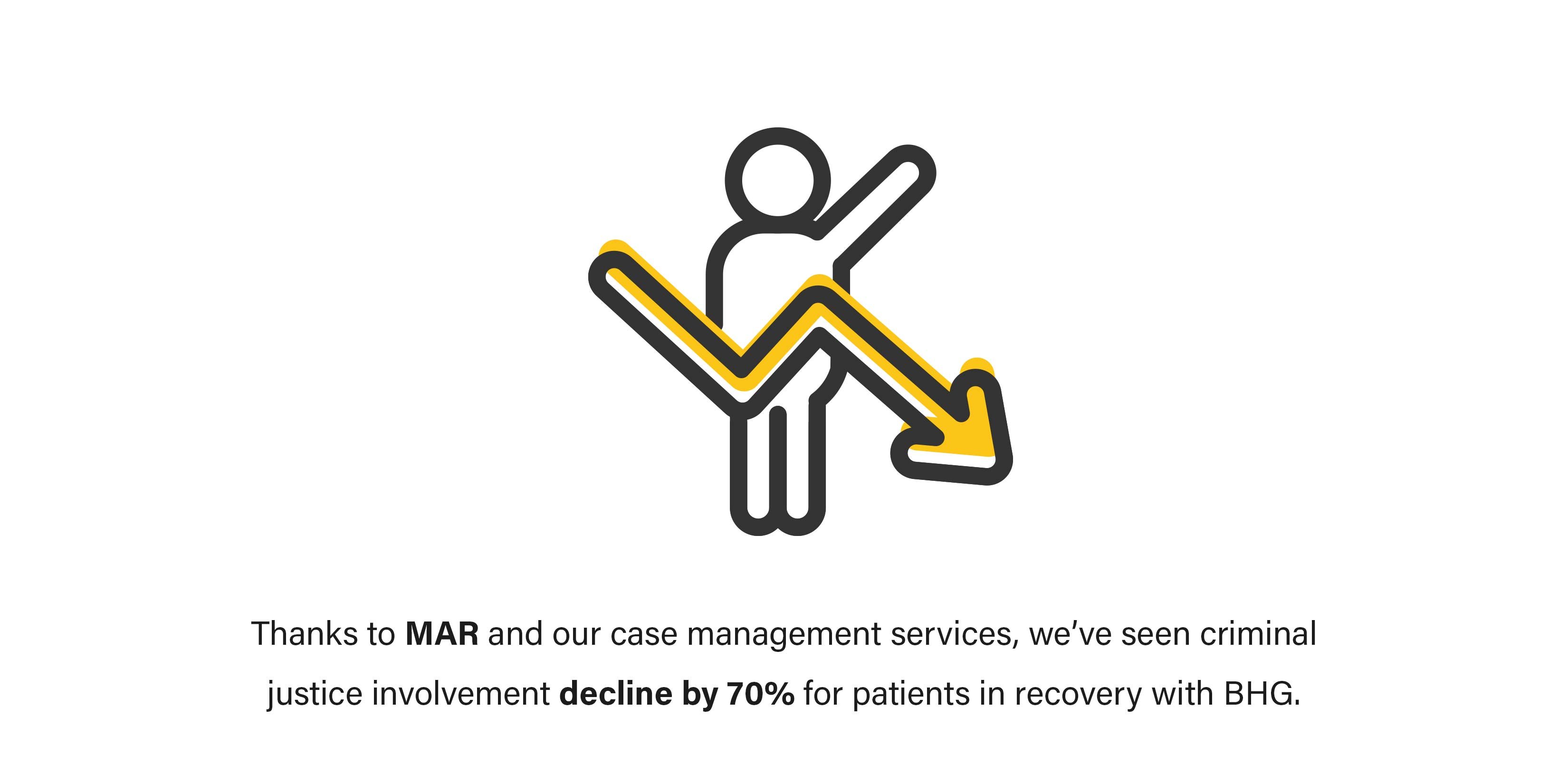 *Thanks to MAR and our case management services, we've seen criminal justice involvement decline by 70% for patients in recovery with BHG.


The opioid epidemic is a widespread societal problem, and we are only starting to understand the far-reaching consequences that will be borne by communities. MAR saves lives and provides a wealth of benefits at the local level, but the majority of people with OUD in the United States receive no treatment at all. The reasons include lack of access to MAR and a stigma both against the treatment and those struggling with OUD. If community leaders wish to reduce harm in their neighborhoods, improve economies and protect future generations, they must advocate for MAR and give those suffering from OUD a chance at real recovery.


To learn more about BHG, call 844.535.7291 or allow us to contact you.


[1] Key substance use and mental health indicators in the United States: Results from the 2017 National Survey on Drug Use and Health, Substance Abuse and Mental Health Services Administration, published 2018.
[2] The labor force and output consequences of the opioid crisis, American Action Forum, published 2018.
[3] Substance use disorders, Medicaid.gov, publish date unknown.
[4] Ibid.
[5] Medicaid coverage of medication-assisted treatment for alcohol and opioid use disorders and of medication for the reversal of opioid overdose, Substance Abuse and Mental Health Services Administration, published 2018.

Media Contact:

Nancy Buttyan
Nancy.Buttyan@bhgrecovery.com
214-918-1811
About BHG
Behavioral Health Group (BHG) is the largest network of Joint Commission-accredited outpatient opioid treatment and recovery centers in the U.S., delivering comprehensive, personalized evidence-based medical and behavioral therapies for individuals with opioid use disorder. With 117 locations in twenty-four states, BHG has more than 1,900 employees who serve more than 42,000 patients. To learn more, visit bhgrecovery.com.