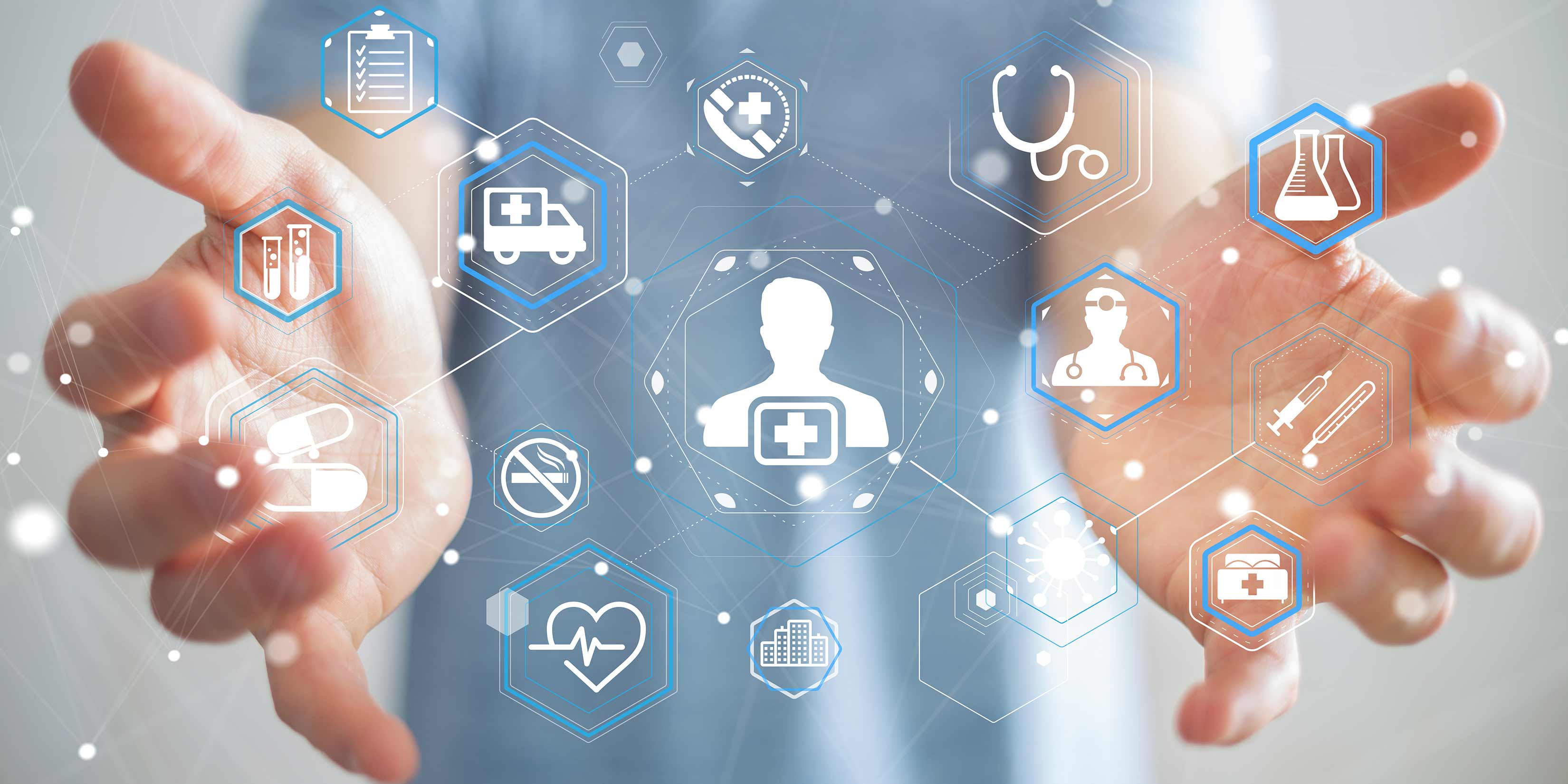 To say that abstinence is recovery is a brutal miscalculation of the complexities of the human condition. Yet so many treatment programs for opioid use disorder (OUD) focus simply on stopping use of the drug, especially within the space of Medication-Assisted Treatment (MAT). These facilities, which prescribe medications like methadone and buprenorphine to help treat addiction, often measure success by retention, meaning the consistent length of time patients remain on the prescribed medication. Make no mistake, these medications are exceptionally effective at reducing opioid use. That's why Behavioral Health Group (BHG) uses them as part of its recovery services. But medication should be a starting point, not a result to be measured and filed under "mission accomplished" after a few months of avoiding opioid use. The patient who achieves abstinence without addressing the dysfunction that caused them to use opioids in the first place has not recovered. They're the same person they were before the addiction began, and likely to repeat the same means they used to mitigate stressors. Even while active in MAT, there are a host of other illicit drugs that are not affected by treatment medications. Without addressing coping strategies and underlying predicates of substance use disorder (SUD), relapse is likely, which could lead to overdose.
To achieve real recovery, we need to change how we define the goal of treatment. To do that, we need to see OUD from the patient's perspective.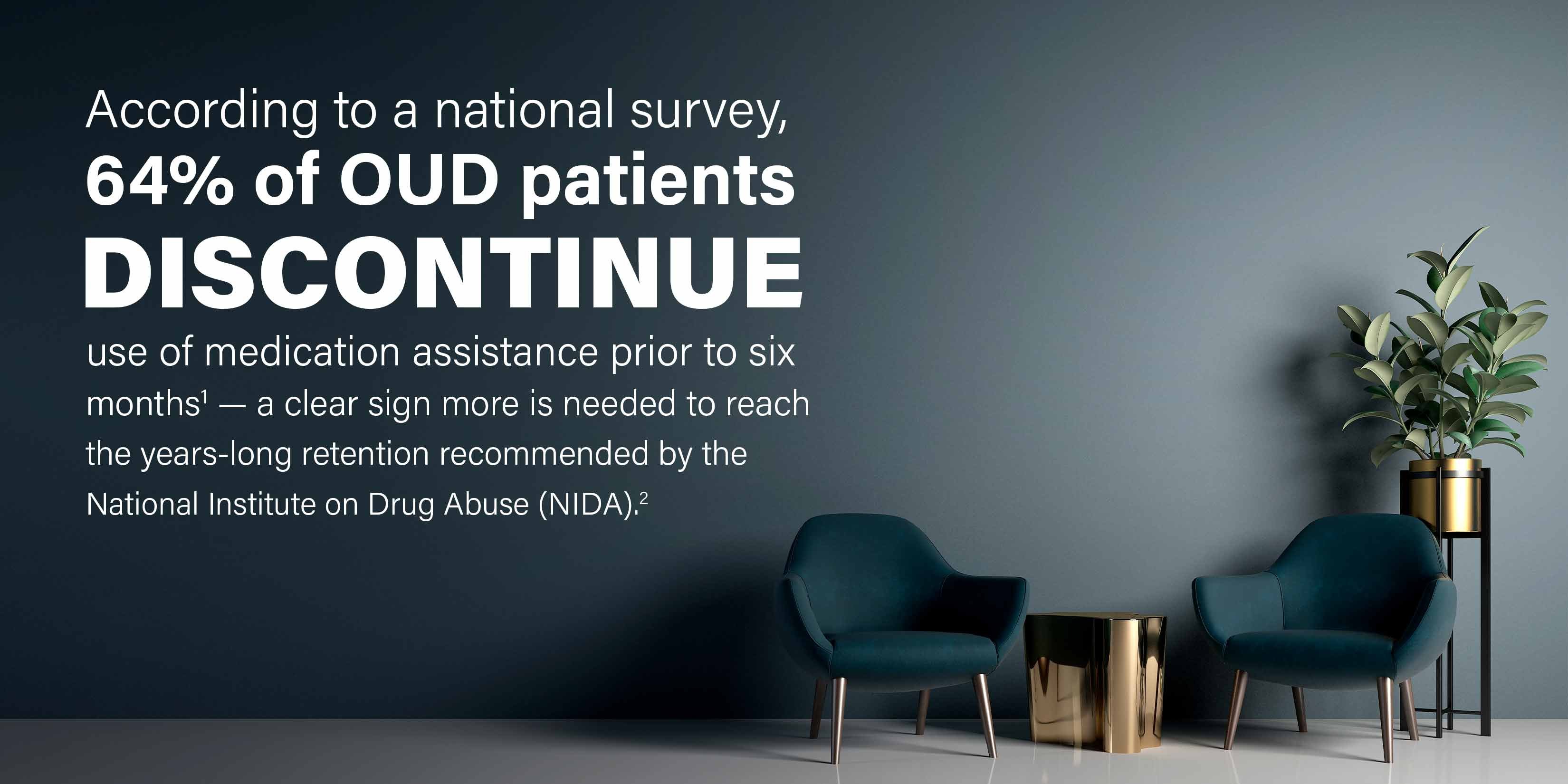 *According to a national survey, 64% of OUD patients discontinue use of medication assistance prior to six months[1] — a clear sign more is needed to reach the years-long retention recommended by the National Institute on Drug Abuse (NIDA).[2]
The precursors and persistence of opioids use
Opioids mimic an unnaturally large release of endorphins, our brain's feel-good neurotransmitters. Endorphins muffle our perception of pain and boost feelings of pleasure, creating a temporary but powerful sense of well-being. Described in this manner, it's no surprise some turn to opioid use when life's demands outstrip their healthy coping abilities. But over time, the drug causes the user's body to slow its production of endorphins. To feel good, the user must take more and more. This is why many who struggle with OUD resort to illegally obtaining opioids or heroin.
The cycle of addiction begins quickly. When it does, ceasing use of opioids isn't an option emotionally or physically since the impact of abruptly stopping can cause severe side effects — a reason medication-assisted withdrawal is recommended by leading healthcare organizations such as SAMSHA (Substance Abuse and Mental Health Administration). However, transitioning off illicit opioids is only the first step to recovery.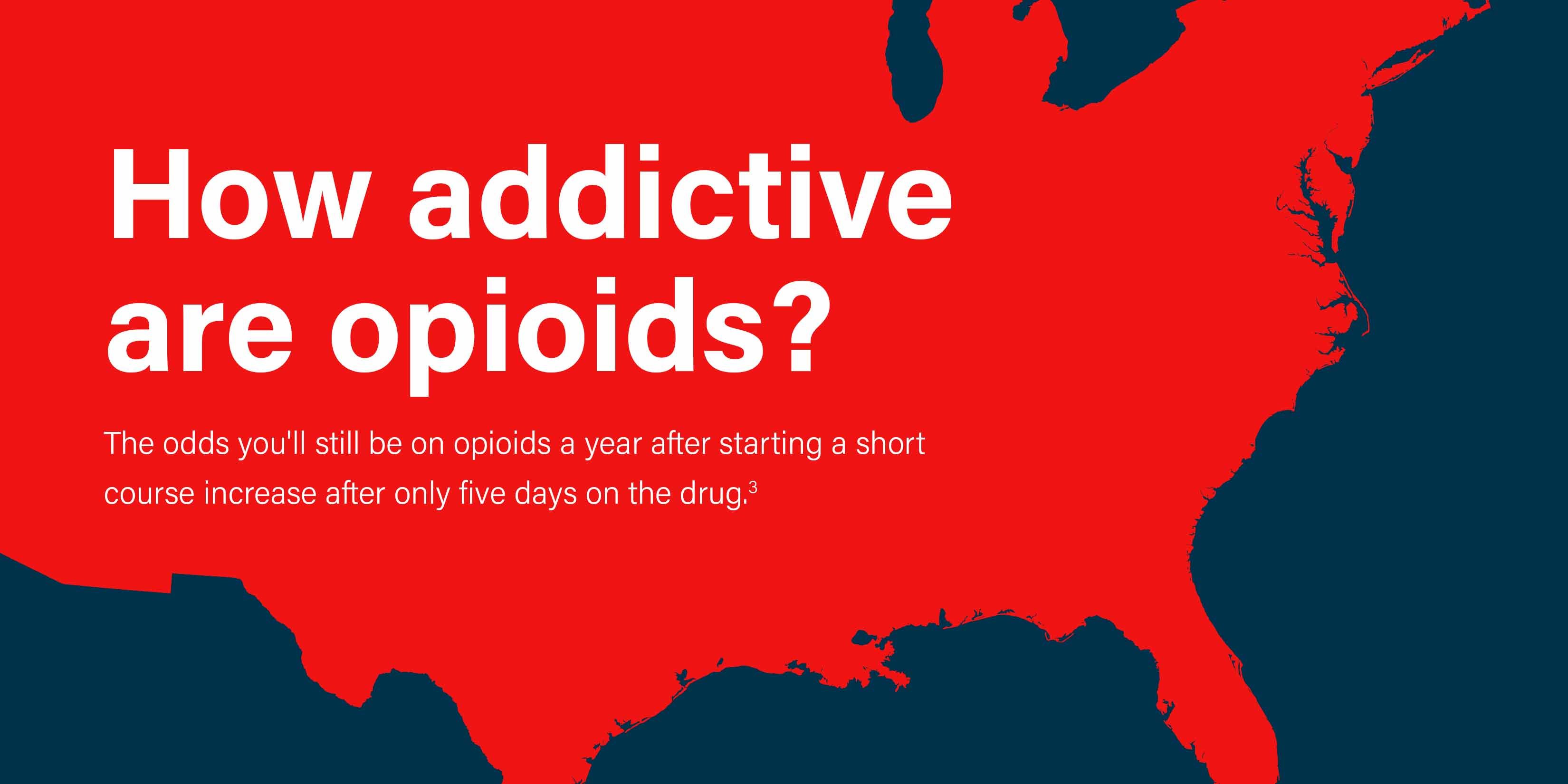 *How addictive are opioids? The odds you'll still be on opioids a year after starting a short course increase after only five days on the drug.[3]
Breaking the cycle to see the cycle
When patients first show up for treatment at BHG, they are nearly always in terrible distress. They are sick from the onset of withdrawal and just want to feel better. Even in this desperate state, our clinicians are very careful to stress the role of the medications we prescribe: They are stabilizers, allowing patients to be open to the many different components of treatment. They are not the treatment.
Medications help give our patients time back — time to address what needs to be fixed. There are some patients (and treatment centers) that confuse what needs to be fixed with ceasing use of the drug. It's a shortsighted assessment, but an understandable one. Because when someone is trapped in a circle, it's nearly impossible to see where that circle started. We have to break the cycle to see the impetus to use.

While medication adherence and abstinence are highly correlated, the most important aspect of treatment is providing the means to develop a patient's ability to live a life free from any desire to self-medicate with opioids or other drugs. That's real recovery, and that takes real and sober work.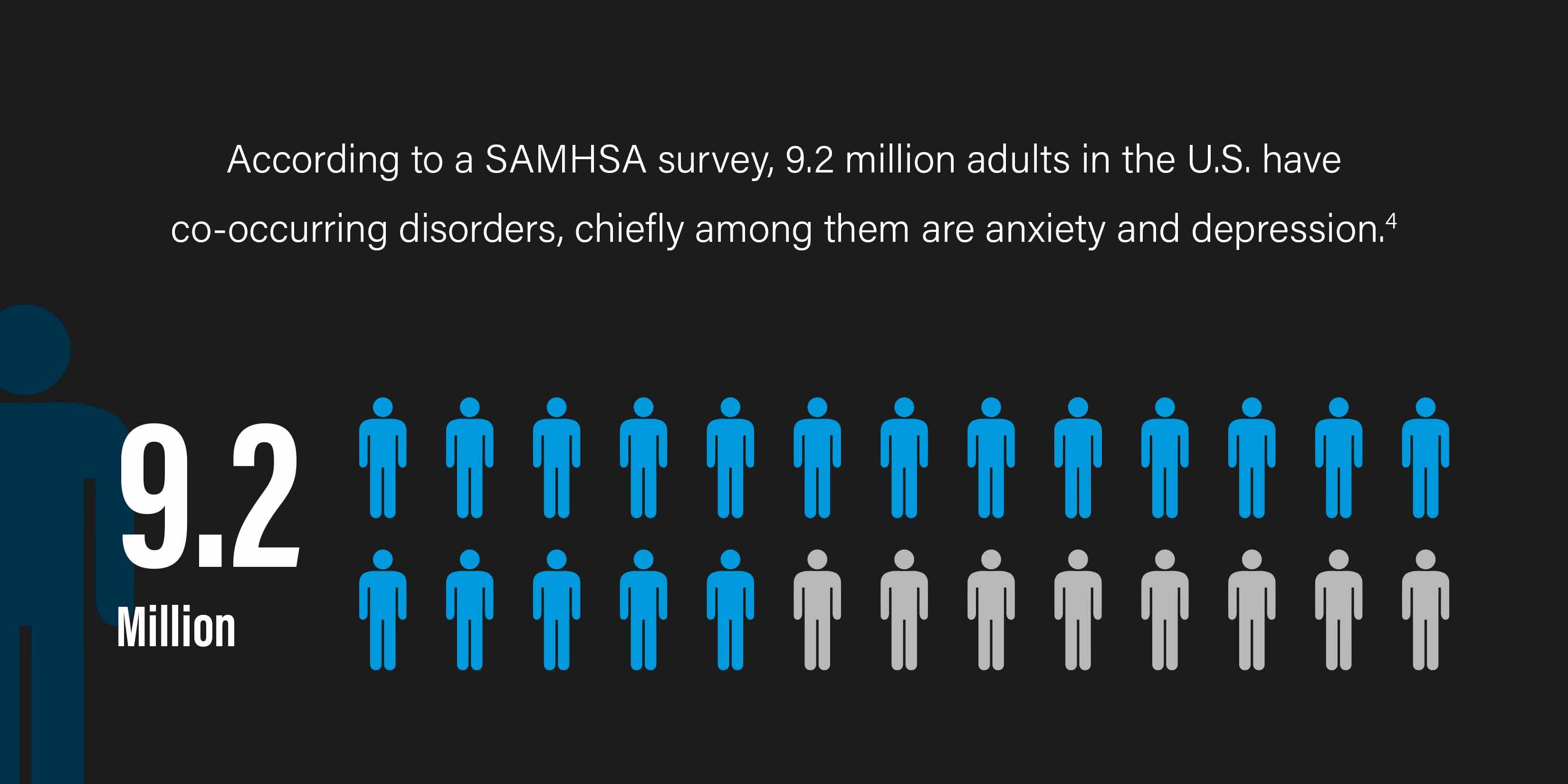 *According to a SAMHSA survey, 9.2 million adults in the U.S. have co-occurring disorders, chiefly among them are anxiety and depression.[4]
Walking the path to real recovery
Those patients who are given medications to refrain from using opioids, but not made to address the underlying issues that drove them to use, face a daily battle. With one foot firmly in the new, strange land of sobriety and the other foot desperately and firmly planted in their old life, they have only half committed to becoming different. There remains an unbearable wishing for one side or another, and eventually, they will pick a side. According to the National Institute on Drug Abuse, chances of relapse ranges from 40% to 60%.[5] This is not the result of a lack of willpower. More often than not, it's the result of a gap in personal capacity ­­— a honing of skills or means to cope with unaddressed traumas or disorders like depression or anxiety.
Real recovery begins with a multidisciplinary approach that incorporates counseling and additional services designed to help patients better recognize their triggers and learn to develop alternative coping skills. It's a process that's less linear than exponential, ebbing and flowing with the struggles and motivations of the individual patient. Along the way, though, patients learn what they need to replace drug use in their toolbox of coping strategies.
BHG cares for roughly 27,000 patients struggling with OUD. These are good people who are finding a new life, a better life in their communities and with their families. That is the result of a years-long process and multiple steps and stumbles. It is our hope that people will begin to understand that abstinence does not equal recovery. That medication alone is not sufficient to achieve real recovery, and that simply improving access to these medications is not the same as improving access to treatment.
To learn more about BHG, call 844.535.7291 or allow us to contact you.
[1] A national study of outpatient specialty treatment settings, Journal of Substance Abuse Treatment, published 2021.
[2] Principles of Drug Addiction Treatment, National Institute on Drug Abuse, published 2012.
[3] Chronic pain: Medication decisions, Mayo Clinic, published January 2021
[4] Results from the 2018 National Survey on Drug Use and Health, SAMHSA, published 2018.
[5] Drugs, Brain & Behavior: The Science of Addiction, National Institute on Drug Abuse, published 2020

Media Contact:

Nancy Buttyan
Nancy.Buttyan@bhgrecovery.com
214-918-1811
About BHG
Behavioral Health Group (BHG) is a fast-growing healthcare company creating a new class of recovery center for individuals with substance use disorder (SUD). BHG specializes in medication-assisted recovery (MAR) combined with addiction counseling delivered through the largest network of Joint Commission-accredited outpatient treatment and recovery centers in the U.S. Founded in 2006 and led by an experienced executive team with deep experience in the healthcare and behavioral health industries, BHG believes that comprehensive, evidence-based, personalized treatment plans focused on real recovery restore lives, strengthen families, and rejuvenate the communities in which we serve. BHG capabilities include a full range of counseling and behavioral health therapies for individual, family, and group counseling, medication-assisted recovery, intensive outpatient programs, mental health services, case management, and community resource coordination services delivered in its treatment centers and through telehealth. BHG treatment centers provide access to all FDA-approved medications through in-center dosing or prescriptions programs. BHG accepts Medicare, Medicaid, most major commercial health plans, and works with state grants to support patients who choose to self-pay. With 117 locations in 24 states, BHG has more than 2,100 employees who serve more than 43,000 patients. To learn more, visit bhgrecovery.com.