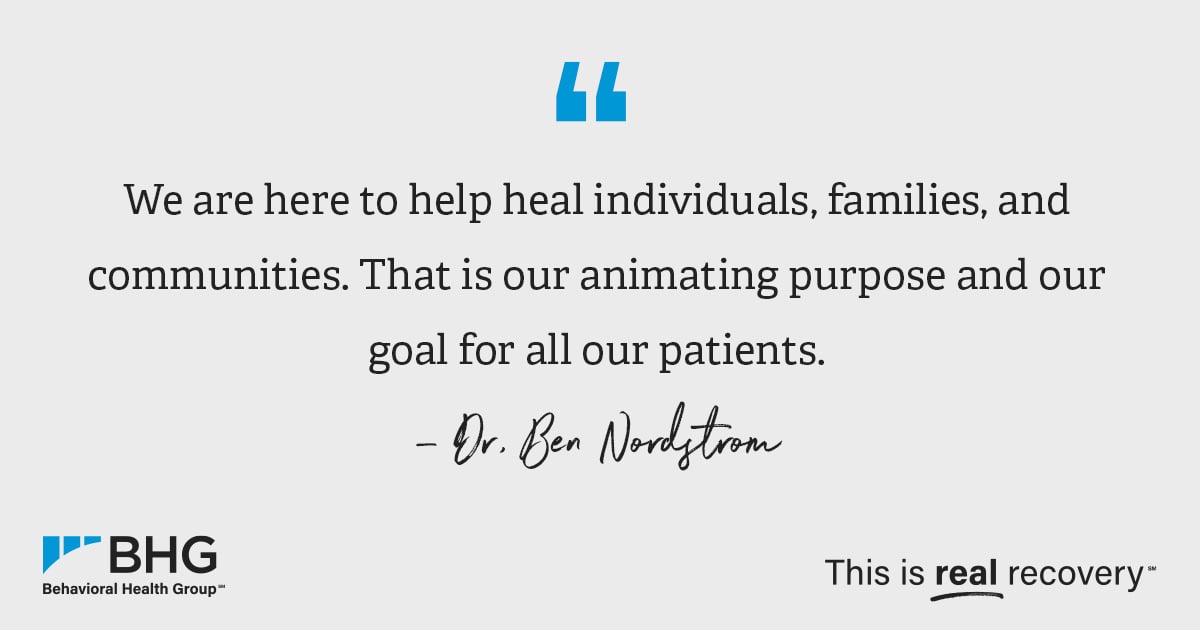 Dallas, TX
by Dr. Ben Nordstrom, BHG Chief Medical Officer
"Treatment" and "recovery" are different terms, but far too many people seem to think they are one and the same. You might have heard talk about improving access to treatment by making medications for Opioid Use Disorder (OUD) available at every primary care office or even in pharmacies. While this may sound like a positive step, it's actually a short-sighted attempt at a fix without understanding the cause of access problems in the first place. OUD is a complex condition, and surveys show most healthcare providers don't feel adequately trained or prepared to treat it. Simply providing patients with FDA-approved meds without comprehensive, long-term counseling and resources to address the root causes is simply perpetuating the issues and reinforcing the very barriers most of us want to remove so that people can have a real chance at lasting recovery.
Medication does not make recovery.
BHG is continuing to lead the way in Opioid Use Disorder (OUD) treatment by expanding the services typically offered at Opioid Treatment Centers and in Office-Based Opioid Treatment. Across the country we are launching ASAM Level 2.1 services (Intensive Outpatient Programs) and are piloting mental health treatment to address co-occurring conditions. These changes will allow us to do more than ever to support our OUD patients. We've also introduced the evidence-based treatment Cognitive Behavioral Therapy as the mainstay in our counseling program. These interventions are the mainstay in Substance Use Disorder treatment for substances for which medications aren't available. Millions of people have found their way to recovery using these interventions, and our OUD patients deserve no less.
Recovery will always be our end game. Shouldn't it be the same for our country?
These additional forms of treatment are exciting, but we shouldn't lose sight of the reason people come to treatment in the first place, which is for recovery. BHG has long said, "Medications support the treatment, and the treatment produces recovery." This is why we favor the use of "Medication Assisted Recovery" and not "Medication Assisted Treatment."

Our medications can make treatment possible by preventing withdrawal, quelling opioid craving, and blunting the euphoric effects of opioids. We have great evidence that they reduce illicit opioid use, lower the chance of overdose death, retain people in treatment, and reduce criminal behavior. The medications can't, however, teach people adaptive coping skills, or educate them on how to identify and avoid high-risk situations, repair broken relationships, or get them to have different tools to manage strong, negative feelings. Treatment does those things, and it's why treatment is such an important part of what we do.

But even then, we ask people to do the hard work of treatment not for its own sake, but because these things can lead to recovery. SAMHSA defines recovery as "[a] process of change through which individuals improve their health and wellness, live a self-directed life, and strive to reach their full potential." A life in recovery is supported by four dimensions: health, home, purpose, and community.
Real recovery is not a second-class victory.
For some people, getting into recovery means getting back to where they were before they developed an OUD. For other people, getting into recovery means attaining something they never had before in their life. Any recovery where someone is physically and mentally healthy, has a stable home environment, a clear sense of purpose and meaning to their life and is participating in the life of their community is a real recovery. And achieving all these things with the support of a medication is not a consolation prize or a second-class victory. We wouldn't say that to someone with bipolar disorder who maintained recovery in part through maintaining adherence to their mood stabilizer regimen, or to someone whose depression is kept at bay with an antidepressant. We shouldn't tolerate that message for our patients either.
Our purpose helps patients connect with theirs.
We are here to help heal individuals, families, and communities. That is our animating purpose and our goal for all our patients. It's hard work for us, but harder still for them. Through comprehensive, long-term counseling and approaching the whole person, we help give people the knowledge and skills they need to succeed in this endeavor, and we must always inspire in our patients the hope, rooted in our experience and observation, that they can achieve this goal. If we leave it all up to a dose-a-day and rely solely on medication to end the opioid crisis, then from where will patients' hope come?
Media Contact:

Nancy Buttyan
Nancy.Buttyan@bhgrecovery.com
214-918-1811
About BHG
Behavioral Health Group (BHG) is a fast-growing healthcare company creating a new class of recovery center for individuals with substance use disorder (SUD). BHG specializes in medication-assisted recovery (MAR) combined with addiction counseling delivered through the largest network of Joint Commission-accredited outpatient treatment and recovery centers in the U.S. Founded in 2006 and led by an experienced executive team with deep experience in the healthcare and behavioral health industries, BHG believes that comprehensive, evidence-based, personalized treatment plans focused on real recovery restore lives, strengthen families, and rejuvenate the communities in which we serve. BHG capabilities include a full range of counseling and behavioral health therapies for individual, family, and group counseling, medication-assisted recovery, intensive outpatient programs, mental health services, case management, and community resource coordination services delivered in its treatment centers and through telehealth. BHG treatment centers provide access to all FDA-approved medications through in-center dosing or prescriptions programs. BHG accepts Medicare, Medicaid, most major commercial health plans, and works with state grants to support patients who choose to self-pay. With 117 locations in 24 states, BHG has more than 2,100 employees who serve more than 43,000 patients. To learn more, visit bhgrecovery.com.