From 1999 to 2019, the number of opioid-related deaths reached half a million. In 2020, opioid overdoses hit a record high of 93,331. As numbers of persons suffering from opioid use disorder (OUD) elevate across the nation, emergency departments (EDs) take on an increasing burden that further strains weary physicians and adds to rising hospital expenditures. Yet, the ED serves as a critical access point for those with OUD and is well-positioned to provide access to immediate treatment, as well as long-term recovery. While some geographic areas are more affected than others, every ED physician should be prepared to identify and treat those struggling with OUD.
Below are three critical steps for ED physicians to keep in mind as they work to establish best practices and uniformity related to the treatment of possible OUD patients.
Assessment
When potential OUD patients present in the ED, time is of the essence. Screening quickly assesses the severity of substance use and helps to identify the appropriate level of treatment. While there are different methods of screening, two commonly used methods are the Drug Abuse Screening Test (DAST-10) and the Drug Use Disorders Identification Test (DUDIT). Both are self-administered screenings that attempt to capture an assessment in fewer than 12 questions.

However, if the patient presents as an opioid user for pain management, there are more targeted assessment tools physicians can use. Among them is the 14-item Screener and Opioid Assessment for Patients with Pain (SOAPP). This tool was created to identify those chronic pain patients that could be at risk for OUD with longer-term opioid medication use. The 14 items within the current SOAPP, which were chosen from the initial 24-item SOAPP, are designed to predict aberrant medication-related behaviors in patients on opioid therapy.

It's important to note that these assessment tools assume omission to some degree on the part of the patient, and many may be reluctant to admit aberrant behaviors. In a study using the SOAPP methodology (Akbik, et al., 2006), clinicians found that patients were more willing to respond to items previously left blank when the questions were asked by a staff member as part of a follow-up interview.

Finally, after self-assessment is complete, and with patient consent, physicians should request a urine toxicology test in order to more accurately assess illicit substance use and, equally important, determine the patient's candor in the self-assessment. These results may signal a need for deeper intervention.

Intervention
Many opioid-dependent people use the ED for medical care, especially when faced with symptoms of withdrawal. Over the past decade, ED visits related to OUD have increased nearly twofold (Chary, et al., 2020). In fact, many ED physicians see the same patients admitted to their EDs, often after administering life-saving naloxone to reverse an overdose. This underscores the importance of medication-based interventions in the ED.

Buprenorphine, one of three FDA-approved drugs to treat OUD, has been proven to improve patient survival, increase retention in treatment and increase a patient's ability to gain and maintain employment. A 2015 study tested the efficacy of three different intervention strategies: 1) Screening and referral to treatment, 2) screening, brief intervention and facilitated referral to community-based treatment services and 3) screening, brief intervention, ED-initiated treatment with buprenorphine and referral to primary care for 10-week follow-up. The study revealed twice as many patients were in OUD treatment at 30 days with ED-initiated buprenorphine, compared with the other two strategies. In addition, those same patients had used fewer illicit opioids in the previous seven days, which supports other findings that medication-assisted treatment (MAT) is a critical component to onboarding OUD patients to a successful recovery program.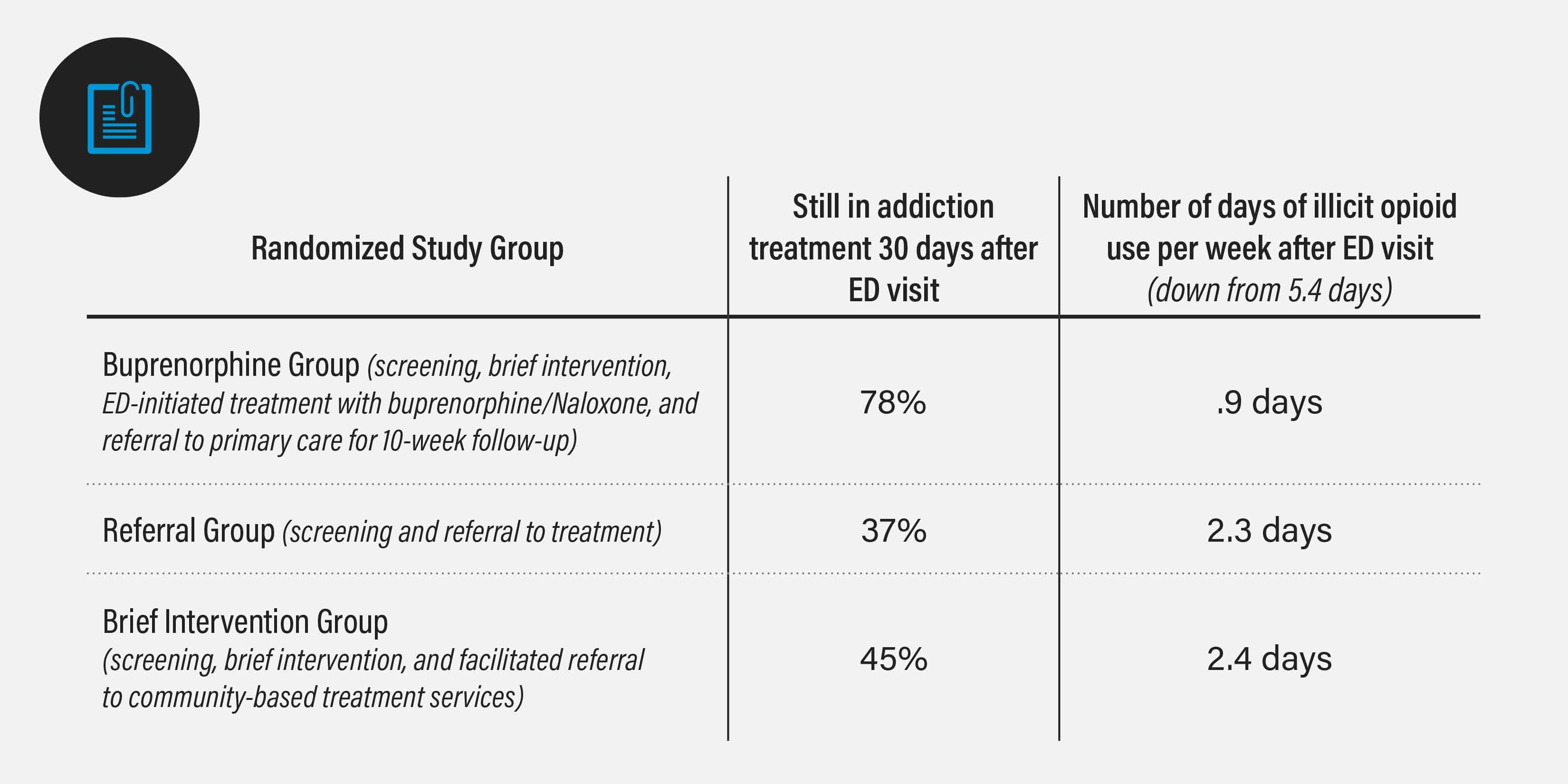 While it is clear the positive impact ED-initiated buprenorphine can have on OUD patients, clinical perspectives around its use are less straightforward. A 2020 survey revealed that ED clinicians' perceptions of buprenorphine varied by years of practice and training level; it also showed that most ED clinicians did not feel prepared to initiate buprenorphine in the ED. Specifically, 80% of respondents agreed that buprenorphine should be administered in the ED, but only 44% felt that they were prepared to discuss MAT. That uncertainty may be tied to a lack of addiction training and scarcity of addiction-focused behavioral therapists qualified to administer and monitor MAT services, which makes identifying a trustworthy, medication-based OUD recovery center even more important to ED physicians.
Referral
Clarity and mental readiness to undergo treatment for OUD wanes. When the opportunity arises and a patient is ready to commit to recovery, ED physicians must act fast. It's not enough to simply have an addiction treatment center on speed-dial. As many studies have revealed, MAT works only when it's used within a comprehensive recovery program, including counseling, behavior therapy and mental and physical health services. Also, because individuals vary in their treatment needs, they may need to try different FDA-approved medications to achieve their goals. Given that only 36% of existing substance use disorder treatment programs offer at least one medication to treat OUD, and only 6% offer access to all three medications, the list of possible addiction treatment partners for ED providers is short.
BHG is part of the 6% that offers treatment with all three FDA-approved medications. It is the largest Joint Commission-accredited outpatient opioid recovery center in the U.S. and gives physician referral partners and their patients broad access to recovery services. As an accredited healthcare partner, BHG leverages a tailored clinical care model proven to keep OUD patients on the path to real recovery. In addition, by offering OTP (opioid treatment programs) and OBOT (office-based opioid treatment) in multiple locations, BHG has the ability to be flexible with medication types and how they're administered.
BHG is answering the call for more specialized intervention techniques and physician partners who can prescribe not just FDA-approved medications, but also comprehensive recovery services and monitoring. As BHG expands its footprint, which currently includes 86 locations across 18 states, its number of fully credentialed addiction experts also grows — all of whom work to make the referral process easy for ED physicians and the recovery process possible for their patients.
Refer a patient to BHG. Call 844.OUD.DOCS.
[1] Opioid Data Analysis and Resources, Centers for Disease Control and Prevention

[2] Provision Drug Overdose Death Counts, Centers for Disease Control and Prevention, National Centers for Health Statistics

[3] Hammam Akbik, Stephen F. Butler, Simon H. Budman, Katherine Fernandez, Nathaniel P. Katz, Robert N. Jamison (2006). Validation and Clinical Application of the Screener and Opioid Assessment for Patients with Pain (SOAPP),Journal of Pain and Symptom Management, Volume 32, Issue 3.

[4] Chary, A., Condella, A. L., Vongsachang, H., Carlson, L. C., Vogel, L., Martin, A., Kunzler, N., Weiner, S. G., & Samuels-Kalow, M. (2020). Emergency Department Clinicians' Attitudes Toward Opioid Use Disorder and Emergency Department-initiated Buprenorphine Treatment: A Mixed-Methods Study, Western Journal of Emergency Medicine.

[5] Chary, A., Condella, A. L., Vongsachang, H., Carlson, L. C., Vogel, L., Martin, A., Kunzler, N., Weiner, S. G., & Samuels-Kalow, M. (2020). Emergency Department Clinicians' Attitudes Toward Opioid Use Disorder and Emergency Department-initiated Buprenorphine Treatment: A Mixed-Methods Study, Western Journal of Emergency Medicine.
[6] Medication treatment for opioid use disorders in substance use treatment facilities, Ramin Mojtabai, Christine Mauro, Melanie M. Wall, Colleen L. Barry, and Mark Olfson, Health Affairs, published 2019

Media Contact:

Nancy Buttyan
Nancy.Buttyan@bhgrecovery.com
214-918-1811
About BHG
Behavioral Health Group (BHG) is a fast-growing healthcare company creating a new class of recovery center for individuals with substance use disorder (SUD). BHG specializes in medication-assisted recovery (MAR) combined with addiction counseling delivered through the largest network of Joint Commission-accredited outpatient treatment and recovery centers in the U.S. Founded in 2006 and led by an experienced executive team with deep experience in the healthcare and behavioral health industries, BHG believes that comprehensive, evidence-based, personalized treatment plans focused on real recovery restore lives, strengthen families, and rejuvenate the communities in which we serve. BHG capabilities include a full range of counseling and behavioral health therapies for individual, family, and group counseling, medication-assisted recovery, intensive outpatient programs, mental health services, case management, and community resource coordination services delivered in its treatment centers and through telehealth. BHG treatment centers provide access to all FDA-approved medications through in-center dosing or prescriptions programs. BHG accepts Medicare, Medicaid, most major commercial health plans, and works with state grants to support patients who choose to self-pay. With 117 locations in 24 states, BHG has more than 2,100 employees who serve more than 43,000 patients. To learn more, visit bhgrecovery.com.